SYSTEM302-7 and PROFIBUS: Proven Success in Biofuel / Bioenergy Production
Brazil has made tremendous progress in consolidating the technical production of biofuel originated from sugar cane, particularly ethanol. Significant investment from joint local and international capital has driven the involvement of various industrial segments. The Brazilian ethanol market is expected to account for production exceeding some set of ten billion through 2012.
As a result of the big expansion in bioenergy projects - sugar and ethanol production combined with electrical energy co-generation and the creation of new sugar cane plantations - PROFIBUS is playing a big role in the automation of several new industrial plants in Brazil. This is due to a number of factors including the importance of low-cost technology for implementation, data protection, ease of operation and maintenance, and complete integration between field instrumentation and the so-called intelligent MCC. Today most sector industries are being automated with SMAR SYSTEM302-7, an automation and control system based in digital networks and a truly open technology. SMAR was selected as the supplier for being able to offer a complete automation and control solution for mega-projects.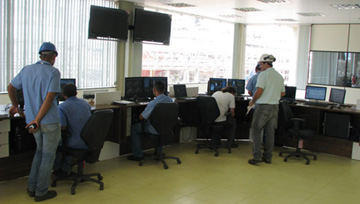 COSAN Jataí – Control Room
SYSTEM302-7 Applications
Tropical Bioenergia: This company, located in the Edéia municipality (GO). In addition to meeting production and productivity goals, attention was focused on maintaining high safety standards, which, according to industrial manager, Eng. Ana Cristina, were adopted in accordance with British Petroleum procedures. The control architecture uses PROFIBUS PA, PROFIBUS DP (1500 PROFIBUS nodes) and AS-i protocols and includes 15 operator stations (with multiple monitors and redundant servers), an engineering station and a maintenance workstation. Process control data can be exported via web. "In spite of the normal adjustments at startup, the decision to use PROFIBUS brought large benefits to the automation team as well as to the operators, due to the excellent cooperation between SMAR and the Tropical technical teams," said Ms. Ana Cristina Balan Oliveira Roque, Tropical Bioenergia industrial manager.

Mega-project team 1: Fernando César Afonso, Production Assistant; Juliano Paiva, Automation Technician; Ana Cristina Balan Oliveira Roque, Industrial Manager; Marcos Túlio Campos Oliveira, Automation Technician; Milton Fernando de Oliveira, Production Assistant.
CNAA Ituiutaba / Itumbiara: they are other plants totally automated by SMAR, whose contract included the SYSTEM302-7 with its entire field instrumentation using the PROFIBUS technology, process controllers, control panels and infrastructure provided by the Center of Integrated Operations (COI), similar to the successful COI destined to Santa Elisa industries, as widely reported by the automation and control media.

CNAA plant
Included in the supply are more than 3200 SMAR PROFIBUS PA field instruments and four supervision and control systems. The installation is designed to operate with digital control technologies, with an open and distributed architecture that also includes 21 DF73 DPV1 CPUs per unit. Add to this the AS-i technology for control of the on-off valves and sensors. Both units – Ituiutaba and Itumbiara, started into full operation in 2009.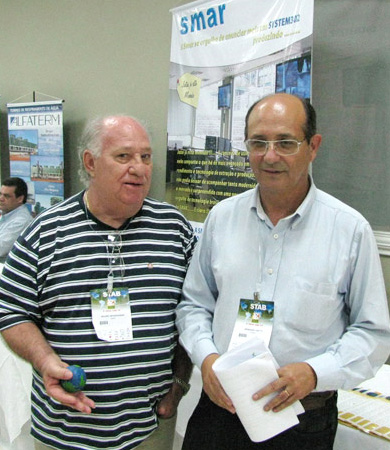 Mr. Mauro Sponchiado, SMAR VP and founder, and Mr. Armando Viotti, Cosan Group Operational General Director
The above are biofuel megaprojects containing more than 5000 nodes and over 40,000 supervision points.
Included in these outstanding supplies of SMAR automation technology, products and services to the segment, is the COSAN Group unit in Jataí, Goias state, one of the largest power plants and industrial parks in the world using PROFIBUS technology.
Equipped with two turbines generating 65 MW, milling 21 thousand tons of sugar cane per day and producing 2,249 m3 of ethanol per day, starts successfully , with SMAR PROFIBUS automation, the biggest world ethanol plant, at Jatai, Goias state, Brazil. The plant belongs to the biggest world ethanol producer: COSAN Group.
According to Fernando Liboni, the SMAR project manager , this is a modern plant using PROFIBUS with SYSTEM302-7 SMAR Automation System where there are eight hundred of SMAR PA devices, including Pressure, Temperature transmitters and Valve Positioners in the different areas of the plant, including Utilities, Juice Preparation, Fermentation, Syrup Treatment, Distillation, Power Generation , Water Feeding & Treatment, Steam Boiler and Diffuser. There are 14 redundant operation stations arranged in a modern control room, everything integrated and operated starting with the SYSTEM302-7 of SMAR.
SMAR provided practically all stages in the process, says Fernando Liboni, SMAR International Divison Project Manager. "The field devices (more than 800 in all) are already installed in several areas of the power plant, such as Utilities, Preparation, Treatment, Fermentation, Distillery, Conveyor Belts, Turbo Generator, Reception, ETA, Boilers and Diffusor". Also were installed nine control panels with the PROFIBUS protocol, besides valve positioners and pressure and temperature transmitters.
According to Liboni, COSAN Jataí stands out for its high expertise as one of the world´s most complete sugar mills. "The most modern management methodologies are adopted in company projects, from earthmoving to final decision making".
According to Mr Armando Viotti, Cosan Group Operational General Director, the plant presents auspicious and positive results up to now and he highlighted, among other aspects, the importance of the SYSTEM302-7 automation system from SMAR in the results and benefits.
See some SYSTEM302-7 advantages explored on thousand of applications all over the world:
Flexibility in changing configurations to meet new demands;
Distribution of critical functions as field control;
More non-process information for the management of instrumentation and process, besides business integration;
Lean architecture concerning lower initial, operational and maintenance costs;
Interoperability among several manufacturers with wider possibilities of choice, and the reduction of spare parts costs;
Totally digital and connectivity to multiple protocols (HART, Foundation Fieldbus, PROFIBUS-DP, PROFIBUS-PA, DeviceNet, AS-i, Modbus, DNP3, etc);
Possibility for low cost expansion, scalable architecture;
Redundancy on several levels, more availability, more safety;
Easier to learn;
Easier operation, simplified engineering, multi-user environment.
Remote operation;
Integrated operation, maintenance and engineering functions in all processes from a central control room, based on standard protocols;
Complete view of the entire process through intuitive graphic interfaces;
Assets Management via the web, EDDL, FDT/DTM,
MES.
The integration of the different software and tools is performed through the Studio302, a SYSTEM302-7 component that makes possible centralizing the management of the whole project with a friendly user interface. The SYSTEM302-7 is an open automation system for diagnostics, more tolerance to failures, function blocks, FFB (flexible function blocks), connectivity to OPC and other protocols, and several features that turns it into a complete control system and not a mere communication bus with proprietary integration. Its presence at the major plants in the sector stems from its process control functions, which enables combining information beneficial to decision making with guaranteed operational excellence.
The automation system uses open technologies that integrate perfectly with the hardware, while allowing the connection of software and hardware from different manufacturers. The user is free to choose the components and build his own system, with fast response to the fast-changing market conditions, in order to ensure competitiveness.
The flexibility and the expansion capacity of the system architecture make possible reconfigure and expand to meet the new process conditions without large costs. Modern technologies enable quick responses to the changing market conditions.
In terms of operational excellence the sugar/alcohol sector, like most segments, is under constant pressure to reach that goal, with the purpose of ensuring competitiveness.
Operational excellence means optimizing the process through the analysis of data in real time, for faster, intelligent, strategic decision making at all corporate levels.
Which are the expected results? The following are the main ones:
Production Optimization. By knowing the real production capacity, one can operate with better precision to best meet customers'needs.
Improved Performance. Automation and digital technology enable improved processes and more efficient and easy plant operation.
Easier standardization and availability. Standardized metric performance, quality and production keep brand integrity and ensure product availability.
Costs reduction. The identification and solution of process and production inefficiency improve the company´s overall agility, the cost-benefit ratio and the financial results.
Another point are the technological updates carried out at existing facilities, as Usina Zanin in Araraquara, SP/Brazil, whose steam turbines were replaced for electric motors with PROFIBUS DP, or the same company´s Vale do Paranaiba plant and distillery, in Minas Gerais state, Brazil, which upgraded the system for extracting sugar cane juice by diffusion technology. The two units combined will reach 15 million tons of sugar cane during 8 months at a competitive production cost, due to using little manpower and supplying good quality products to the home market.
Another report that became a world reference in PROFIBUS with the SMAR SYSTEM302-7 is the automation of the Alvorada do Bebedouro Sugar and Ethanol plant: (http://us.PROFIBUS.com/docs/App_Report_Sugar_and_Alcohol.pdf)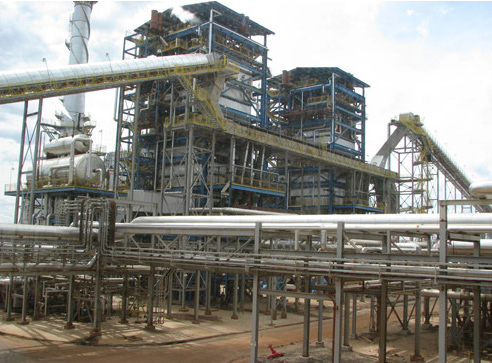 View of the Jataí plant
Alvorada do Bebedouro Sugar and Alcohol Unit, located in the municipality of Guaranésia, Minas Gerais state in Brazil, started this year the production of VHP (Very High Polarization) sugar, a raw material for the food industry. With the goal of 106.250 tons of sugar exports up to 2009, it invested R$ 60 millions in the expansion of its Crushing, Steam Generation, Juice Treatment, Evaporation and Sugar Plant implementation.

SMAR Application Engineering, coordinated by the Application Engineer Leonardo Mansur Pinheiro, jointly with the ABAA unit technical team chose the PROFIBUS industrial network for the job. The main factors leading to this choice were the high degree of acceptability and realibility of this protocol in the market, due to its open, interoperable communication standard that works with several suppliers, besides its easy installation, and simple configuration and architecture. The automation system chosen was the SMAR SYSTEM302-7, which combines connectivity flexibility and the integration with specialist administration, quality and maintenance systems like the MES (Manufacture Execution System) and the ERP (Enterprise Resource Planning).

Therefore, the administrative, production planning and industrial management sectors may access the information necessary to their needs and make possible to follow up, control and improve production and the support to the logistic chain, through more accurate decision making, and bring more efficiency and effectiveness to the implemented actions, while improving plant availability.
The architecture project included the implementation of PROFIBUS DP for the MCCs (Motor Control and Command), PROFIBUS PA for continuous field control equipments and AS-i for discrete field startup equipment distributed among master PROFIBUS DP controller. Horizontal communication between the controllers may be done by using an Ethernet 100 Mbps network providing control and supervision protocol.
The circuit loops, motor startup and interlocks were configured on the DF73 PROFIBUS DP-V1 master controllers. All the controllers are connected to an optics fiber ring network that makes possible the exchange of control data between the controllers and supervision data between controllers and the operation, engineering and maintenance stations.
For motor startup, were specified intelligent MCCs with relays, inverters and soft starters with PROFIBUS DP communication protocol. In all, the PROFIBUS DP network has 162 equipments communicating at 1,5 Mbps/s, with a network range around 200 m maximum length. All the circuit switch sensors and on-off valve startup carry the AS-i communication protocol inserted in the PROFIBUS DP network through gateways that convert PROFIBUS DP into AS-i.
The convergence between the PA and DP networks was obtained through gateways and couplers. A total 106 SMAR field equipments with PROFIBUS PA communication protocol were installed and distributed in six channels with a network length with a maximum 30 m distance that communicate at a speed of 31,25 Kbits/s.
All SMAR field equipments are specially made to operate with PROFIBUS DP and PA protocols, such as FY303 series positioners for pneumatic valve actuators, series LD303 manometric and differential pressure transmitters, series TT303 temperature transmitters, series IF303, 4-20mA/PROFIBUS PA converters used to insert 4-20 output signal in the PROFIBUS PA network, and DF73 PROFIBUS DP-V1 master controllers.
SMAR JM400 junction boxes were used on the PROFIBUS PA network to interconnect physically field equipments like network nodes, which permit easy and safe connection to make possible mounting an industrial network. The JM400 can be used in classified areas, due to its explosion-proof certification.

These local operation stations make possible to operators supervise and command the plant through supervisory software with synoptic, tuning, graphs, alarms and history screens. The Maintenance and Management station, besides monitoring and making available process data for the via Web corporate network, has SYSTEM302-7 tools necessary to configure the PROFIBUS DP/PA and AS-i networks (cyclic configuration), to access and alter parameters like field equipment calibration and diagnostic on the PROFIBUS PA network (acyclic configuration) and create the control logics.
All field devices configuration on PA network was done using PROFIBUSView from SMAR.

Supervisory configuration screen
According to Mr. Eduardo Pitondo, Electric and Instrumentation Supervisor of Alvorada do Bebedouro Sugar and e Alcohol unit, the SYSTEM302-7 is robust and able to provide the amount of diagnostic information on the equipments only offered by a purely digital system, including for analysis and checkup of the network structure.

One of the advantages provided by the PROFIBUS technology pointed by Mr. Pitondo refers to the panel internal space saved due to the reduction of the quantity and volume occupied by the hardware, the power sources, trays, terminal blocks and cables, which reduced the time spent on the identification and solution of problems and increased the system reliability and plant availability.
The market – The main feature of the Brazilian power matrix rests on the high percentage of existing renewable energy, meaning that one fourth of the primary source comes from bio-masses commercially utilized, a unique situation when compared to other power sources.
In the matrix of the Brazilian energy sources and uses co-exist different bio-energetic chains, such as the sugar cane ethanol. Brazil may certainly stand out in the international energetic context, either by strongly changing its energetic matrix for a highly renewable or by becoming a supplier to important external markets requiring biofuels. This factor has attracted the attention of the entire world, mainly in the context of the recent raising of conventional fossil energy costs.
SMAR, in its 35 years of presence in the market, has greatly contributed to incentive and support the industrial processes management through the reduction of environmental impact with its renowned technology, 100% developed by Brazilian engineers and technicians, generating environment-oriented clean solutions.
The Brazilian ethanol, the most competitive in the world, reduces by 85% CO2 emissions, one of the gases responsible for global warming. In this context, SMAR is the first company in the sector to provide automation and control solutions for sugar and ethanol factories through its technology, products and services. In Brazil and abroad SMAR is present in more than 90% of mills.
You can find a video of Sugar and Ethanol plants using SMAR automation system at: http://www.smar.com/industries/index.asp#sugar
You can find a complete reference of Sugar and Ethanol plant using SMAR automation system at: http://www.smar.com/files/referencebook/RBAABE.pdf
See the SMAR presence in the several industrial segments: http://www.smar.com/industries/index.asp
See the full SMAR portfolio at: www.smar.com